Rules Concerning this Public Thoroughfare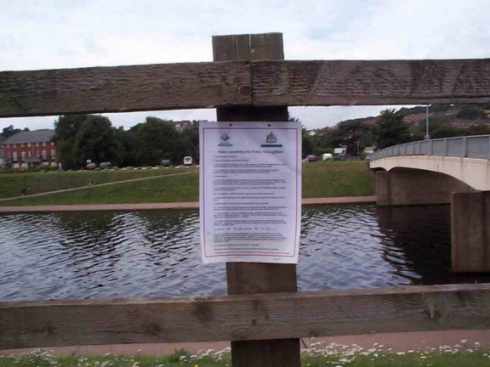 One morning in late August 2001, several copies of a rather official-looking notice appeared along a canal-side public footpath in Exeter. Here's what they looked like (minus the stylish crimson border):
---
Rules concerning this Public Thoroughfare
1. No synchronised swimming.
2. Egos must be kept under control at all times.
3. The use of Penny-Farthings, ox carts, 'space hoppers', and other outmoded vehicles is strictly forbidden between 2:30 and 3:00 a.m. on the second Tuesday of each month.
4. The speaking of prophecy, invoking of ancestral spirits and/or attempting to perform supernatural feats is permitted, provided that it is done with clear intention.
5. Breathe deeply.
6. Tidal waves, phantom ships, octopi and/or flying fish should be reported immediately to the following number (01392) 274306. Sea serpents and other mythical creatures, however, should be reported to the Exeter City Council Office of Cryptozoology on (01392) 265147.
7(a). Strict attention should be paid to lichens, tiny wildflowers and interesting patterns of cracks or blotches in the pavement.
7(b). No alliteration. Maximum fine 2/6d. Please use the alliteration bins proved.
8. All physical life that uses this thoroughfare will eventually die (and that includes you, but don't worry).
9. Corporate logos on clothing must be displayed with a clear conscience.
10. Loitering, lingering, lurking, lolling around, hanging about aimlessly, sprawling lethargically on the ground, etc. are all permitted, but only if you really haven't got anything better to do.
11. Any two masses m1 and m2 at a distance d apart must exert equal and opposite forces on each other of magnitude F where F = Gm1m2/d2. Here G is the universal gravitation constant and equals approximately 6.6726 x 10-11 N m2 kg-2.
12. Amplified music is not permitted unless it involves at least three of the following elements: alpine horns, castanettes, Mongolian throat singing, washboards, bassoons, hurdy-gurdies, Billie Holiday, myxolydian scales.
13.
14. If any clothing is contaminated with mildew - any woollen or linen clothing, any woven or knitted material of linen or wool, any leather or anything made of leather, or woven or knitten material, or any leather article, is greenish or reddish, it is a spreading mildew and must be shown to the priest. The priest is to examine the mildew and isolate the affected article for seven days. [Leviticus 13:47-50]
15. No splitting of infinitives, atoms, hairs, hares, or bananas.
16. Spurious lists of silly rules posted on this thoroughfare will be removed immediately.